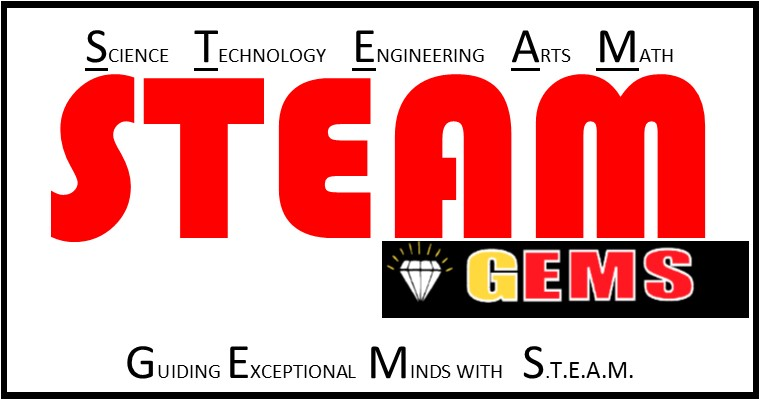 The GEMS program (Guiding Exceptional Minds with STEAM) at Elsinore Middle School is a magnet program that emphasizes advanced instruction with STEAM instructional practices. Students will have broad opportunities to explore subjects in depth at a pace that matches their advanced abilities. Students do not have to be identified as GATE to be considered for the program.
Along with the accelerated academics, the program provides a socially appropriate environment for those students who are awkward among their peers due to social, emotional, academic, and maturity traits typical of advanced students.
We realize that not all students test well, and that we do not always have reliable test data for all students. An eligible student may have transferred in to our district, or just missed testing so the program is open to anyone who wishes to apply. While our recruitment is primarily for students entering 6th grade, we have limited openings in our 7th and 8th grade program.
It is recruiting time!
We are excited to announce that we will be accepting students on intra-district transfers for the 2020-21 academic year! If EMS is not your assigned middle school, you are still welcome to apply.
Applications for the 2020-21 GEMS program were due to EMS by Friday, November 22, 2019, no later than 3:00 pm. Late applications will not be considered unless there is a rare surplus of space available.
All applicants will be expected to take a placement exam at Elsinore Middle School on Saturday, December 7, 2019, at 9:00 a.m. If your student cannot be in attendance that day, the application will still be considered, but if there is an equally qualified candidate who did test, preference will go to that applicant. NOTE: this exam is just one of the criteria that the admissions committee will consider.
MAKEUP DATE ADDED FOR THE PLACEMENT TEST: If you are unable to attend the placement exam on December 7, 2019, you may now attend the makeup date on Saturday, December 14, 2019, at 9:00 a.m. in room 303. Park in the Mohr Street parking lot and follow the signs.
The Admissions Committee will consider the following information as part of the selection process:
* 2018-19 CAASSP test score and level
* Teacher recommendation, parent recommendations, and student input on applications
* Grades, citizenship, behavior, and work habits
* General aptitude in core content areas
* Placement test to be administered at EMS
If you have any questions regarding the GEMS Program or the application process, check the Frequently Asked Questions (FAQs) or the Next Steps button below. If you still have questions after that, please contact via Kim Shotts, GEMS Coordinator by email kim.shotts@leusd.k12.ca.us or by phone at 951-674-2118.