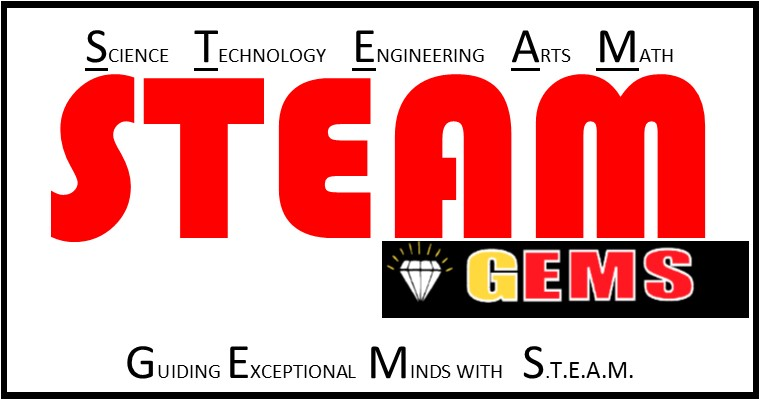 The GEMS program (Guiding Exceptional Minds with STEAM) at Elsinore Middle School is a magnet program that emphasizes advanced instruction with STEAM instructional practices. Students will have broad opportunities to explore subjects in depth at a pace that matches their advanced abilities. Students do not have to be identified as GATE to be considered for the program.
Along with the accelerated academics, the program provides a socially appropriate environment for those students who sometimes feel awkward among their peers due to social, emotional, academic, and maturity traits typical of advanced students. GEMS offers an emotional support system.
Recruitment for 2023-24 school year:
Our official recruitment window for the 2023-24 school year has now closed.
Tuesday, November 15th 
- Information Night at 6:00 pm in the EMS multipurpose room on Mohr Street. 
Saturday, December 10th at 9:00 am
- placement test for all applicants in the EMS multipurpose room on Mohr Street.
**** Wednesday, December 14th ****
If your student did not take the placement test on Saturday, December 10th, it is important that he or she comes to take the makeup test. Makeup testing will be held in room 303 at EMS at 3:30pm. Sign in through the office on Mohr Street and someone will direct you.
DECISION EMAILS WILL GO OUT FRIDAY, JANUARY 20TH. We will use the email address parents provided on the application. Check your spam folder if you do not see the email from us by the 21st. 
Prospective GEMS Families: 
Have questions about the GEMS Program?
Please, view our informational video
______ ______________________________________________________
Each year, the Admissions Committee considers the following information as part of the selection process:
*Previous CAASSP test score and level (none are currently available for this year's 5th grade)
* Teacher recommendation, parent recommendations, and student input on applications
* Grades, citizenship, behavior, and work habits
* General aptitude in core content areas
* Placement test to be administered online by EMS staff
______________________________________________________________________________ 
New GEMS t-shirts and hoodies available
Our order will be here soon.

Thank you for your patience.

Applying Outside of our Normal Recruitment Window
If you do not apply before our deadline this year, you have a couple of options.
1- You are welcome to apply in November of 2023. Please, monitor this webpage as we do not actively recruit for the 7th and 8th grade classes. 
2- You may email [email protected] to inquire about any available spots for you student's grade level.  If space is available, you will be given a link for an online application. 
____________________________________